The Perfect Sunglasses for Every Valentine!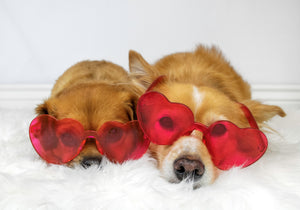 If you're struggling to find the right gift for your Valentine or just need one more thing to put the finishing touch on your present, we've got the perfect Valentine's Day gift for you. Pick up a pair of sunglasses for your special someone this year!

There are many fashionable and quality pieces to choose from. Find out which one of these last-minute gift ideas is perfect to give your loved one this Valentine's Day!
For Your Sporty Valentine!
If your partner is a sports fan or loves the great outdoors, these Fendi sport baguette sunglasses are a perfect choice! With a durable case and detachable strap, your adventure-loving Valentine will be thrilled with this eyewear. Show your loved one how much you care about their interests with this choice!
The Minimalist Valentine!
Minimalism definitely has its perks! But if your Valentine is a minimalist, you may wonder what the right gift is. Choose the Ray-Ban lilac mirror sunglasses! With gold rims, a basic but timeless design, and lilac lenses, your loved one will happily add this pair to their wardrobe!
Valentines Who Love the Sparkle!
Some people love everything sparkly, and if that describes your partner, the Dior butterfly sunglasses are an excellent gift! With frames lined with Swarovski crystals and a classic cat-eye shape, your love will be thrilled to shine bright like a diamond this Valentine's Day!
The Trendy Valentine!
Maybe the special person in your life would call themselves super trendy. If that's the case, they need the latest in sunglasses fashion — the Dita Flight 006 sunglasses! These specs have a fun boxy shape and gray matte crystal frames. With 12K gold accents and dark gray lenses, your Valentine will feel cool and trendy with this pair of eyewear!
Your Valentine Who's Bold!
If you want to send sparks to your bold Valentine, pick sunglasses that say so! Gucci has what you need with these firework sunglasses. Help your love feel a boost of confidence when they wear these glasses with a black frame, gold fireworks, and crystal design — not to mention the fact that the sunglasses' wide frames will protect their eyesight!
The Realistic Valentine!
Does your Valentine have a more laid-back style? These Prada black rubber sunglasses with dark blue lenses are perfect for them. These specs feature a more masculine style and are made of durable material fit for any occasion.
Spoil Your Love This Valentine's Day With Sun Optics!
If none of these options spark your interest, Sun Optics has even more to offer! With six brands and many different styles to choose from, you're sure to find the sunglasses that are just right for your love!

Celebrate your Valentine with a unique and thoughtful gift this year! Stop by our store to get the perfect luxury sunglasses this Valentine's Day.
Are you still looking for the best Valentine's Day gift? Shop at Sun Optics to get the perfect present for your special someone today!