5 Hottest Sunglasses Trends for Summer 2023: The Vote Says Oversized Is In!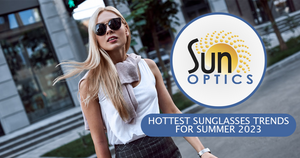 Sunglasses are a fashion statement you can't forget about, especially on these warm summer days. You can use oversized sunglasses to not only protect your eyes but also show off your mood and modern aesthetic. Whether you're feeling classic, edgy, or retro, oversized sunglasses are in style this summer.
Read on to find out which oversized sunglasses need to be next on your buy designer sunglasses list. 
1. Feel Luxurious With Oversized Cat Eye Designer Sunglasses
Cat eye sunglasses used to be small and sleek, but the design has made a huge comeback in oversized styles. They give off a little bit of a retro vibe and have become an eye-catching accessory you need to keep up with this year's trends.  
With cat eye oversized sunglasses, you can go for a timeless pattern like tortoise shell or choose all-black frames for a bold look. Whichever you choose, wear the ones that announce your mood.
2. Buy Oversized Aviator Luxury Sunglasses 
Back in the 1930s, aviators were thin metal frames that boasted a sophisticated style. And yes, they're back in style as oversized sunglasses. 
You can get them in their timeless look of thin metal, like the Gucci 002 Aviators, or take a modern twist on them with chunky frames. Whichever one suits you best, you'll look amazing wherever you go.
3. Go Bold With Square Oversized Designer Sunglasses 
Square oversized sunglasses are definitely trending this summer. With their wide frames, square sunglasses are pretty similar to round sunglasses. However, these frames give off a different kind of edgy vibe, like these PRADA SYMBOLE PR unisex Sunglasses.
Choose fun and exotic prints to bold colors to dress up any outfit for a night out on the town. Or keep it classy with tortoiseshell frames perfect for those fancier events. 
4. Keep a Classic Vibe With a Twist on Round Oversized Designer Sunglasses 
Round oversized sunglasses are a timeless style with a twist. You can go with a bold thick frame as the perfect statement accessory to your outfit — check out Gucci Round Frame Sunglasses — or bring a vintage vibe back into style with thin all-metal frames. 
Whichever style you feel speaks your mood or accents your outfit best, oversized round-shaped sunglasses are the perfect accessory to complete any look.
5. Make a Statement With White Oversized Luxury Sunglasses 
A pop of color is a fun way to bring life to any outfit, but how about making a statement with white oversized designer sunglasses? White frames have become a chic statement that you can pull off with just about anything in your closet for a timeless and effortless look.
Not only can you pick white oversized frames, but you can choose a shape that works best for your face. If you want cat eye, round, or square, like Dita's Narcissus Square Sunglasses, no problem. Slip on a pair and show the world who's boss. 
Sun Optics: The Place To Buy Oversized Designer Sunglasses
Sunglasses are a great way to elevate your look. Slip them on and strut around town or hide behind some oversized chunky frames to avoid the crowd. 
Immerse yourself and your outfit into the designer sunglasses trend and express your mood with oversized sunglasses from Sun Optics. Whether you're feeling moody, chic, classy, retro, or vintage, Sun Optics has the luxury sunglasses to help you stick with the trends you can't miss this summer.
Are you ready to keep up with 2023's hottest summer trends? Visit Sun Optics to find your newest fashion statement in oversized sunglasses!