Tips for Styling Aviator Sunglasses Like a Fashion Icon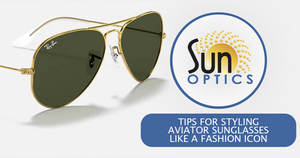 With their classic teardrop shape, aviator sunglasses are arguably the most recognizable style of sunglasses out there. Originally designed to offer enough coverage for pilots, these shades lend wearers an effortless cool that so many of us want to achieve.
Aviator sunglasses never go out of style, but they're having a moment right now in 2023. Keep reading to learn how to pick the right aviator frames and how to rock those frames like a true style icon. Come see us at Sun Optics in Harlingen to find the perfect pair of luxury sunglasses for your style.
Choosing the Right Frames
First of all, it's worth noting that aviator sunglasses look good on every face shape, though round faces may look curvier in aviator frames. Aviator frames usually come in metal, but they're available in all the usual materials. 
The Style
Classic

— This is what you picture when you think of aviators. The classic aviator design is sleek and stylish, making you look as cool as a real fighter pilot. However, if you have a long face, the classic design might not be the best option.

Square

— Squared aviators follow the same basic design as classic aviators but with a bit more edge. Great for longer faces, square aviators have a more modern look compared to the classic.

Sporty

— Get a little bit more protection from the sun with a pair of sporty aviator glasses. With wider frames, sporty aviators wrap around the sides of the eyes and offer the modern flair of square aviators with a bit more personality.
The Color
Choosing the right color for your frames is going to come down to two things: your skin tone and hair color. First, if you have a cool skin tone, aim for cool colors like silver, blue, green, and purple for your frames. If you have a warm skin tone, go with warmer colors for your sunglasses, like gold, red, brown, or yellow. If your hair is warm-toned, aim for warm tones and natural shades like green. If your hair is cool-toned, try strong colors like black, blue, or pink. 
Choosing the Right Outfit
We've established that aviator sunglasses are a stylish accessory, but that doesn't mean they're right for every outfit. To truly rock your shades, you need to wear them at the right times with the right clothes:
Keep It Classic

— The go-to aviator outfit: a classic white T-shirt and jeans. This outfit is a staple for a reason! Talk about effortless cool, this outfit is sure to make a statement without all the fuss of a fancier look.

Keep It Informal

— As much as we may love them, some sunglasses just don't belong at a formal affair. Keep your aviators looking chic by leaving them at home during formal evenings.

Keep It Clean

— When it comes to accessorizing alongside aviators, less is more. Aviators look best when they're allowed to stand out, and over-accessorizing can take away from that effect.

Keep It Confident

— The key to styling any pair of sunglasses is confidence. Even if you ignore every rule we've laid out in this guide, you'll look great wearing anything so long as you feel great wearing it!
Find the perfect pair of designer aviator sunglasses for your style with a visit to Sun Optics in Harlingen.